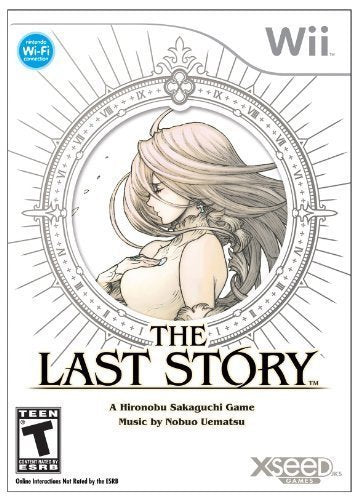 The Last Story - Wii
Regular price $62.99 $44.99 Sale
Shipping Fee: $2.99
Shipping Method: Standard Shipping (estimate: 5-10 days)
The Last Story marks the reunion of two luminaries that helped shape the RPG genre; legendary creator Hironobu Sakaguchi, and internationally-recognized composer Nobuo Uematsu.
Gorgeous pre-rendered cut-scenes help convey the full emotions of key story sequences in an epic tale of survival against the odds. The genre is also advanced with an innovative real-time combat system involving strategic party-based commands that include taking cover from enemy fire, destroying environments to gain a tactical advantage, and drawing fire away from your allies to give them time to cast powerful support spells. Once the battle system is mastered, players can test their skills online where co-op and versus mode for up to 6 players can net special rare items.
Features
- New RPG by industry legend Hironobu Sakaguchi
- Real-time battle system with strategic party combat
- Online cooperative and competitive play for 2-6 players
- A rich world to explore with lots of optional side-quest
As of May 20, 2014, the Nintendo Wi-Fi Connection service for Nintendo DSi and Wii systems has been retired. Online features of this game are no longer available after this date but this game still provides an entertaining experience in offline mode.
To learn more about this service change, please visit support.nintendo.com/servicesupdate.
Game Reviews
IGN - 8.5/10