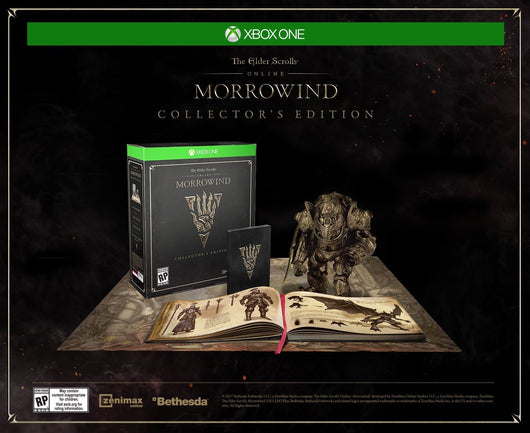 Elder Scrolls Online: Morrowind Collector's Edition - Xbox One
Regular price $99.99 $84.99 Sale
Shipping Fee: $4.89 Free for orders over $49
Shipping Method: Standard Shipping (estimate: 5-10 days)
For the ultimate fan of The Elder Scrolls Online can grab the Collector's Edition, which contains everything included in the Digital Collector's Edition, as well as:

Dwarven Colossus Statue: Recreated with the help of sacred Dwarven texts, this 12" tall replica of the Colossus that starred in the announcement trailer stands ready to defend treasures.

Naryu's Journal: A full-color, large-format book chronicling Morag Tong assassin Naryu's pursuit of a conspiracy across Tamriel. Illustrated with a broad array of concept art.

Map of Morrowind: Players can chart adventures throughout Vvardenfell with this handy map at their side.

Exclusive Game Case: A limited edition metallic case bearing the marks of Vivec and the Tribunal.
Return to Morrowind in this new chapter of the award-winning online role-playing series, The Elder Scrolls Online. Morrowind is on the verge of destruction, and it's up to you to save it from a deadly Daedric threat. Embark on a dangerous journey through legendary locales, from volcanic ashlands to mushroom-filled forests. Includes The Elder Scrolls Online: Tamriel Unlimited, the first game of the acclaimed series.
Game Reviews
IGN - 8.0/10