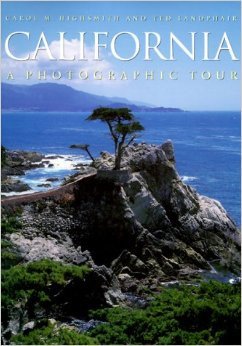 California A Photographic Tour
Regular price $8.99 Sale
Shipping Fee: $3.79
Shipping Method: Standard Shipping (estimate: 5-10 days)
Author: Carol M. Highsmith and Ted Landphair.
The famous phrase from the nineteenth century, "Go West young man," still has meaning today. California is as far west as you can go in the United States—in geography and in mind—and has come to represent America's "land of milk and honey." It is still the destination of a never-ending influx of new arrivals looking to "reinvent" themselves—or their lives—and find the American dream. The Golden State is a haven for individualists, nonconformists, eccentrics, and restless souls itching for the laid-back life of "California dreamin'."
In California: A Photographic Tour, the reader is taken on a journey filled with the beautiful vistas and sights that have made the state famous. Photographer Carol M. Highsmith visits all of the state's great cities—Los Angeles, San Diego, Santa Barbara, and San Francisco—as well as famed landmarks like the famous HOLLYWOOD sign in L.A. And, of course, there are California's celebrated tourist attractions: the La Brea Tar Pits with its displays of mastodons and other creatures; Knott's Berry Farm, the nation's oldest theme park; and the world famous Disneyland in Orange County. Then there is the ritzy glamour of Hollywood, Beverly Hills, Malibu, and Palm Springs—the mecca for golfers, tennis players, and sun-worshippers. Also visited are California's natural wonders like Death Valley National Park and the world-famous Redwood Forest where visitors can see, and even drive through, monolithic sequoias.
These and many more points of interest await the reader. With its dazzling photos and lucid text, California: A Photographic Tour makes an excellent gift for anyone who has visited or wishes to visit this unrivaled state.